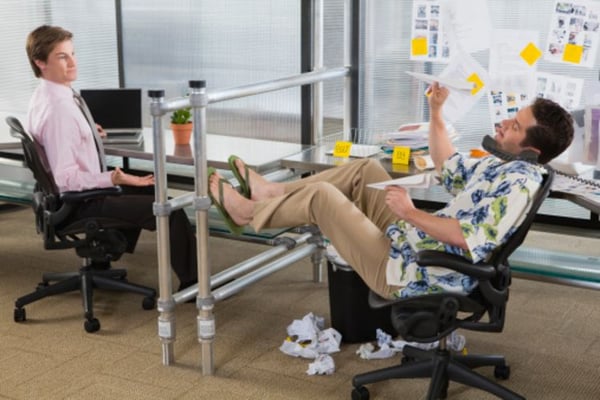 The door opens. All eyes turn to watch the smiling woman as she strides across the carpet. Wait, is she wearing what I think she's wearing? Oh my.
What do you do when the outfit your employee is wearing makes your clients shy away in horror? That depends on which State your company is in. All 50 States recognize at-will employment, but how yours views the three main recognized exceptions to at-will tells you what you can do about that neon yellow muumuu your employee refuses to retire.
Starting at the base of this is at-will employment itself. At-will employment means that if an employee has an at-will status, their employer can fire them at any time for any—or no—reason. Of course the federally protected classes are upheld: a person cannot be fired due to their race, color, religion, national origin, or age (40 and older). Disability and pregnancy are also protected, as long as they don't interfere with valid job requirements and duties. Some states, like Iowa, add protected classes such as sexual orientation. Employees also cannot be fired for reasonable religious dress and grooming habits, like a Muslim employee's request to wear a head scarf or an Orthodox Jewish employee's request to keep his beard despite a no facial hair policy, unless the request were to pose a legitimate concern such as safety around moving machinery or undue hardship on the company.
The three main exceptions to at-will employment include the Public Policy exception, the Implied Contract exception, and the Covenant of Good Faith exception. All three chiefly exist to address terminations that, while they don't violate any protected-class precedents, still seem to be unjust. Recognition of each exception varies between the 50 States: six States recognize all three exceptions while three others don't recognize any of them.
The most widely-practiced exception to at-will employment is known as the Public Policy exception; only seven States do not recognize this exception. If an employee's termination goes against an explicit, well-established public policy of the State, then that termination is considered a wrongful discharge under the Public Policy exception. The public policies referenced are often found in a State constitution, statute, or administrative rule, but may also appear outside of those.
Next in line is the Implied Contract exception, recognized by 38 States. Implied contracts between employers and employees are formed when an oral or written representation is made to employees. Although the employee still maintains an at-will status, the representation (typically found in the employment handbook or other company policies) commonly references statements concerning job security and states that employees will only be fired for "just cause". An express, written contract whose sole purpose is to directly address terms of employment is not necessary if an implied contract is present.
The third exception, known as the Covenant of Good Faith exception, is upheld by only 11 of the States. This exception has the broadest application and, in plain terms, essentially states that an employer needs to have just cause for firing an employee. The employee must have taken place in misconduct or some other action that directly violates company policies or rules. Tried cases have shown that termination without just cause can be determined as having been made in bad faith or motivated by malice. As it's commonly explained, the employer cheated the employee by firing them.
So, what can you do to counter the looks of disbelief that the neon yellow muumuu elicits? If you have already spoken with the employee about changing her clothing habits and she has refused to go along with recommendations, take a look at your specific State's stance on at-will employment. If your company is in a State that doesn't recognize any of the exceptions, you can fire her simply because you dislike the color yellow. If your company is in a State on the opposite end of the spectrum, one that recognizes the covenant of good faith exception, you might face a tough case if you are unable to prove that, by her wearing her unique clothing, your company is facing undue hardships or safety concerns. Make sure you have a clear dress code and your paperwork lined up before taking any step towards a termination, and have your attorney's number on hand.