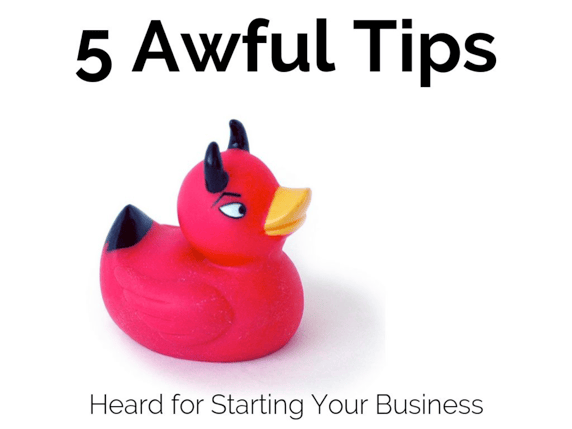 Click here to watch the "5 Awful Tips Heard for Starting Your Business" Slideshow
Not everything you read, see or hear about entrepreneurship is true (surprise). Whether it is from watching Shark Tank on TV, or from getting cutting-edge advice from Wikipedia, there are a lot of ways to get bad tips on starting your own business. It is important that you don't go blindly incorporating every suggestion on how to run your business because after all, it is first and foremost your business. This list has some of our favorite awful tips for starting your own business, as well as some advice on what you should be thinking about instead.
1: Your business needs to become a giant company:
Not every burger stand becomes the next McDonald's or the most profitable business in history. In fact the majority of start-ups fail. While growth is essential, you do not want to over extend yourself, work on keeping things in perspective. It is important that your goals are obtainable. You know what you want and where you want to go, stick to it and take it slow.
2: Your business plan has to be amazing and it cannot change during development:
Business academia is the primary promoter of this myth. While yes the business plan is a useful tool for conceptualizing what you want to achieve, it is not set in stone. Your business plan is there to guide your actions, not dictate your every move. Many times you will find yourself in situations that no business plan can cover and it will come down to your own skills and initiative to choose the right solution. You can still be successful without the world's best business plan.
3: Don't ever give up on your business vs close shop if things look bad:
These two tips both involve the same question, "when should you throw in the towel?" The answer is that neither is absolutely correct. Sometimes it will make sense to give up and sometimes it will make sense to hold on. Realize that pulling out of one attempt doesn't make you a failure. Just as staying in business in a situation that looks hopeless does not make you naïve, it depends on the individual situation. Keep trying or try something new, either way you are only a failure if you never try again.
4: You should raise as much capital as you can and get the highest valuation possible:
Being able to convince investors to look favorably upon your idea is great. The more money they are willing to give the higher the value of your business appears. But don't forget that at the beginning you still haven't sold anything yet. Until you have results you won't know how much money you are going to be able to pay back or give the investor a positive return. It is easy to get ahead of yourself, remember to only take money if you have a plan on how to spend it.
5: Business idea vs. launch execution:
This tip often takes the form of an "either or". Many think that either you have a great business plan that was just a winner from the get go, or you took a mediocre plan but executed the launch exceptionally well. The truth is that the combination of a great business plan with expert execution of the company's launch is what leads to success. Don't attempt it with just one or the other, always strive to have both. There are a lot of times that good ideas fail because of poor management and there are a lot of start-ups that were well run but fell apart due to an idea that just wasn't feasible.
For more information on business formation and entrepreneurship, contact the Goosmann Law Firm at info@goosmannlaw.com or call (712)-226-4000.