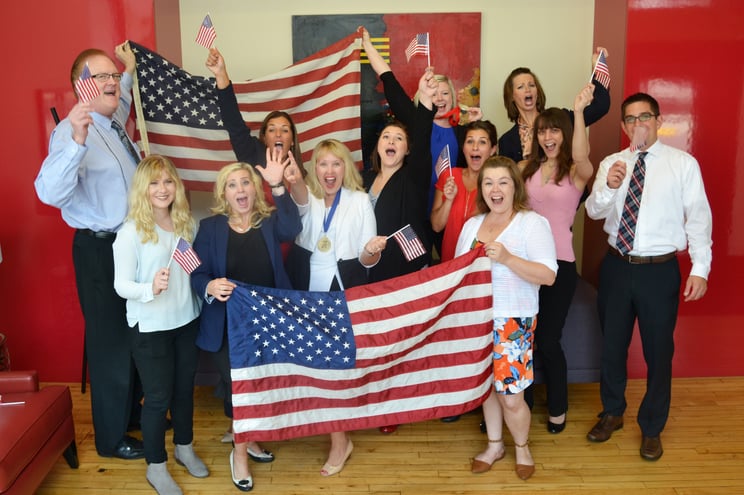 I think we could all agree that 2016 was one for the books. From the Midwest's late March blizzard (pictured below) to the more obvious national surprises such as the Cubs winning the World Series and the crazy hype of the election. You could say we've all had a big year.
We are crossing our fingers this doesn't happen again the last week of March 2017...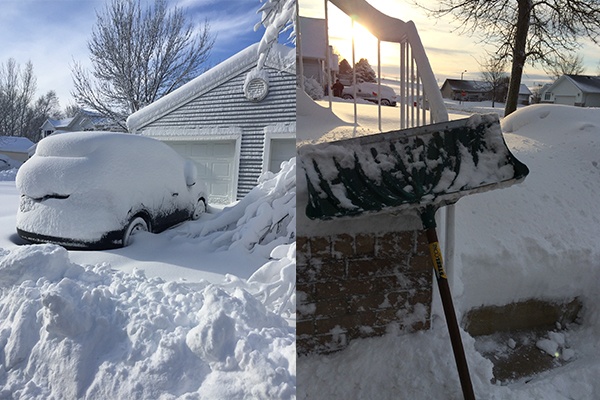 Left Photo: Office Systems Manager, Caitlin Rininger's vehicle covered in snow on March 24th, 2016.
Right Photo: Marketing Director, Rachel Thompson's shovel the morning of March 24th as she scooped her way up the steps.
In 2016 the Goosmann Law Firm had our biggest year yet, and as part of our annual "Top 5 Things" (Read 2015 List) we're back to share our list of the firm's top 5 things to happen in 2016.
Community impact is a constant goal of the Goosmann Law Firm. We were thankful for a great year and wanted to give back. In 2016, we donated both time and resources to over 25 charities in our community. We were the naming sponsor of Santa's House where our team volunteered hours both on the planning committee and at the event to benefit UnityPoint Health - St. Luke's Children's Miracle Network, college scholarships, the Caring Clowns, and Comfort Care Blankets. (Read full story)
For the firm's holiday party the entire team and their spouses played Santa's elves and fulfilled wish lists for the kids at the Crittenton Center. (Read full story)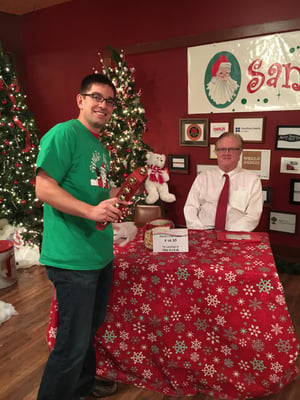 Chris Barondeau and Bruce Smith volunteering at Santa's House.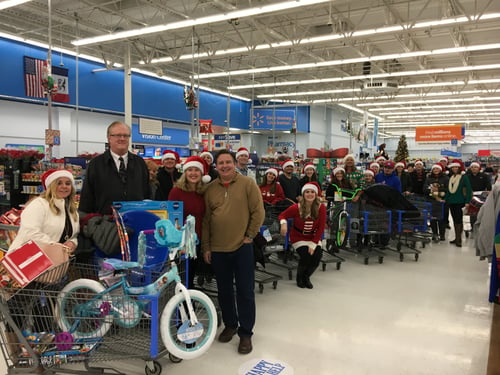 The Goosmann team and their spouses fufilling wish lists for kids at the Crittenton Center.
Jeana Goosmann, CEO & Managing Partner of the Goosmann Law Firm, graduated from Dartmouth's Tuck School of Business Chief Executive Officer Program on September 30th in New York. Goosmann was 1 of 60 selected to participate in the Executive Program out of hundreds of applicants. Jeana was awarded the Mastercard Sponsorship to attend the program.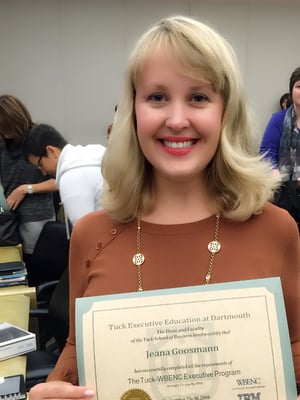 This intensive learning experience focused primarily on increasing the competitive advantage and robustness of the participant's own business. The program is designed to help businesses that are beyond the startup phase to assess, improve and grow their businesses.
"The Tuck Executive Program offered me the opportunity to learn from the nation's top business school professors while meeting an incredible group of powerful and innovative executives. I am happy to bring back advanced business techniques to share with my business clients to continue to help their businesses thrive," said Jeana.
(Read full story)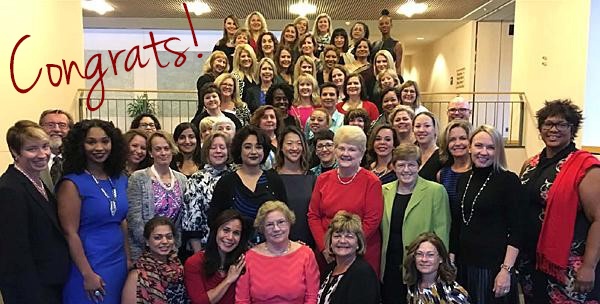 The Tuck - WBENC Executive Program graduates and faculty gathered for a photo in New York.
3. Done Over 2 Billion Dollars in Deals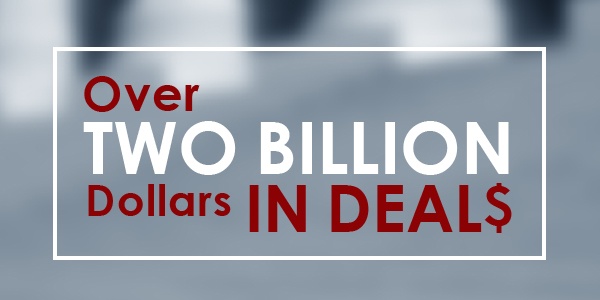 We've done a lot of deals and in 2016 we went over the 2 billion mark! Since 2009, Goosmann attorneys have handled mergers and acquisitions (M&A) transactions, closing over two billion dollars in deals in a variety of industries. We represent all categories of participants in transactions, including buyers, sellers, major stockholders, lenders, financial advisors, management, special board committees, venture capitalists, individual investors, and private equity funds. We also understand family dynamics as we focus on closely held entities and family businesses. Call us today at 712-226-4000 to start making deals for you!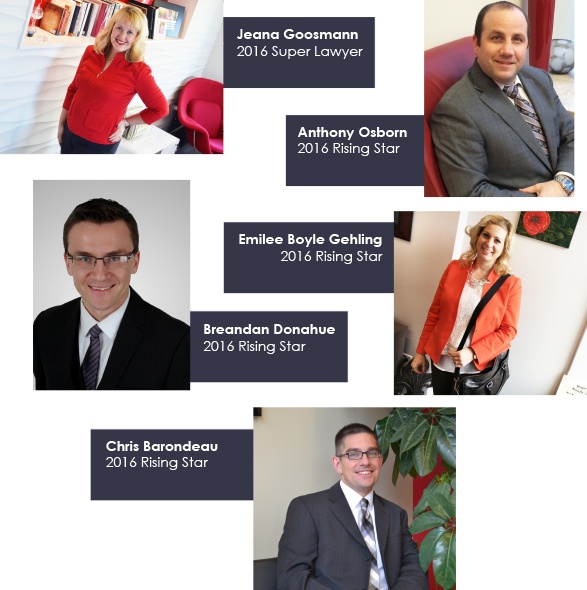 Jeana Goosmann was selected as a 2016 Great Plains Super Lawyer. Goosmann attorneys Anthony Osborn, Emilee Boyle Gehling, Chris Barondeau, and Breandan Donahue were selected as Super Lawyers Great Plains Rising Stars for 2016. Both Great Plains Super Lawyer and Rising Stars are recognized by Super Lawyers, a nationally accredited rating service of lawyers who have attained a high-degree of peer recognition and professional achievement. Goosmann attorneys received an honor that is limited to no more than 5 percent of lawyers across the Midwest. Goosmann, Osborn, and Gehling are also Martindale-AV Rated Attorneys.
Disclaimer: This rating system does not guarantee client results.
1. Jeana Goosmann Selected to the 2016 list as a Member of the Nation's Top One Percent by the National Association of Distinguished Counsel (NADC).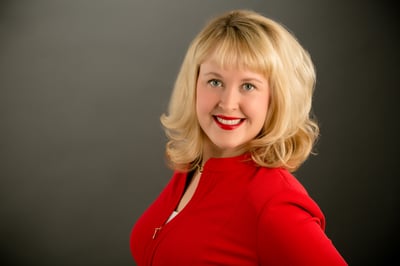 Jeana Goosmann was selected to the 2016 list as a member of the Nation's Top One Percent by the National Association of Distinguished Counsel (NADC). NADC is an organization dedicated to promoting the highest standards of legal excellence. Its mission is to objectively recognize the attorneys who elevate the standards of the Bar and provide a benchmark for other lawyers to emulate.
The Goosmann Team would like to wish you a Happy New Year and best wishes to you, your family, and business in 2017!