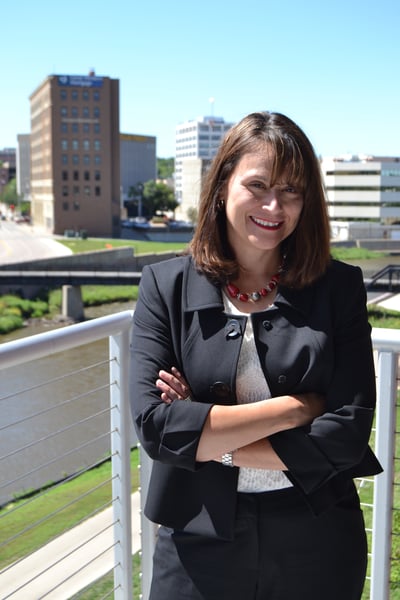 Jeana Goosmann, CEO & Managing Partner of the Goosmann Law Firm, is pleased to announce that Marie H. Ruettgers has been named Partner and Managing Attorney of the firm's Sioux Falls location.
Ruettgers practices in commercial litigation and employment law litigation, and advises clients on human resources and cyber liability issues. She represents companies, staffing agencies, and individuals before federal and state court and administrative agencies, such as the EEOC, on discrimination claims and non-compete agreements, and provides guidance with hiring, firing, and terms and conditions of employment.
Ruettgers also works with individuals and companies in the growing field of cyber law. She ensures clients have their property, resources, clients and name protected against cybercrimes, particularly among businesses handling private consumer information such as banks, finance companies, credit card processors or health care providers. Ruettgers is also an accomplished professional responsibility attorney who helps both professionals and the public understand if licensing obligations have been met.
Ruettgers joined the Goosmann Law Firm in 2014 and played a vital role in the growth and development of the firm's Sioux Falls location. She brought extensive South Dakota experience to the firm, as she previously worked as an Assistant United States Attorney in Pierre, South Dakota. Ruettgers also worked as a law clerk to Chief Justice Gilbertson on the South Dakota Supreme Court. She received her Juris Doctor from the University of South Dakota School of Law where she later became a legal writing professor. Ruettgers has years of management and human resource experience working in the health care industry. She is licensed in South Dakota, Iowa, and North Dakota and admitted to practice in the United States District Court for the Districts of Northern Iowa, South Dakota, and North Dakota.
Goosmann says, "Marie has never met an obstacle that she couldn't overcome. She always finds creative ways to solve problems for her clients. She is an asset for any company, and I am proud to have her as a firm partner."
The Goosmann Law Firm is a full-service law firm with locations in Sioux City; Spencer, Iowa; and Sioux Falls, South Dakota. To learn more about the Goosmann Law Firm, visit their website at www.GoosmannLaw.com or call (855) THE-GLF1.