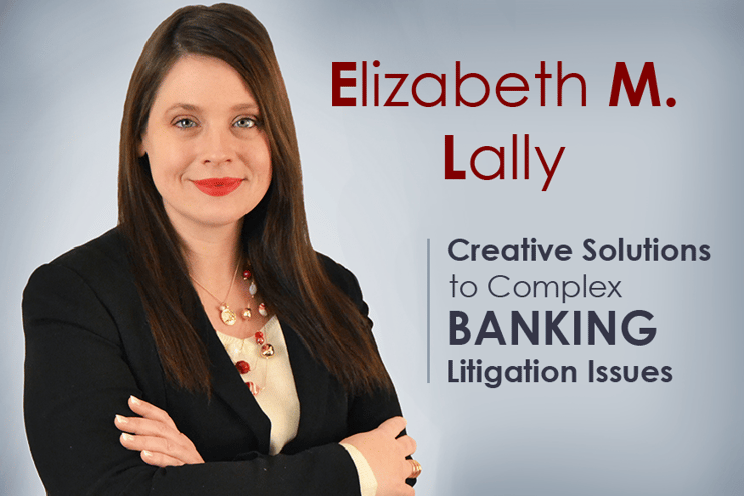 Jeana Goosmann, CEO and Managing Partner of the Goosmann Law Firm, welcomes Elizabeth M. Lally as she joins the firm at their Sioux City Office. Ms. Lally focuses her practice on helping client's find creative solutions to their complex banking and business problems. Her practice areas include complex litigation with an emphasis on banking, finance, bankruptcy, insolvency and restructuring.
Ms. Lally joins the firm with substantial experience representing clients facing complex litigation issues. She started her career in Chicago, Illinois, as Defense Counsel for Class I Railways in the areas of toxic exposure, cumulative trauma, personal injury, wrongful death, and intermodal transportation. Ms. Lally then moved to an Indianapolis, Indiana where she worked as Litigation Counsel for secured and unsecured creditors as well as Chapter 7 & Chapter 11 Bankruptcy Panel Trustees handling complex, commercial insolvency and restructuring with an emphasis on fraud investigation. Most recently, she worked on mass tort, multi-district litigation with clients in Iowa, Illinois, Michigan, Minnesota, Missouri, Wisconsin, Nebraska, and South Dakota.
Goosmann says, "I am thrilled to have Elizabeth on our team. Her litigation and banking experience will be valuable to our banking and business clients."
Ms. Lally received her Juris Doctor from DePaul University College of Law where she was the part of the Moot Court Team and Appellate Division Member. She is also a national lecturer on electric discovery and every stage of the Electronic Discovery Reference Model, civil litigation, civil procedure, and business disputes.
Ms. Lally is licensed to practice in Iowa, Illinois and Indiana. She joins trial lawyers, Jeana Goosmann, Anthony Osborn, Marie Ruettgers, Bruce Smith, Christopher Barondeau, and Cesar Juarez.

"It's wonderful to be a part of a proactive, strategic, and growing team," says Lally. "I'm happy to be working with other experienced litigation attorneys at the firm to provide our clients with strategic legal advice."
The Goosmann Law Firm is a full service law firm with locations in Sioux City and Spencer, Iowa and Sioux Falls, South Dakota. To learn more about the Goosmann Law Firm, visit their website at www.GoosmannLaw.com or call (855) THE-GLF1.