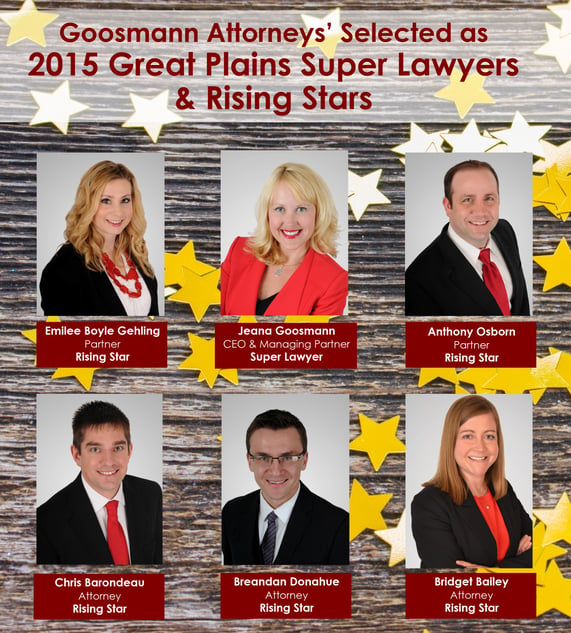 Goosmann Law Firm Attorney Jeana Goosmann was selected as a 2015 Great Plains Super Lawyer. Goosmann Attorneys Anthony Osborn, Emilee Boyle Gehling, Chris Barondeau, Breandan Donahue, and Bridget Bailey were selected as 2015 Great Plains Rising Stars. Both Great Plains Super Lawyer and Rising Stars are recognized by Super Lawyers, a nationally accredited rating service of outstanding lawyers who have attained a high-degree of peer recognition and professional achievement. Goosmann attorneys received an honor that is limited to no more than 2.5 percent of attorneys within the state.
To become a 2015 Great Plains Super Lawyer, a candidate must go through the Super Lawyer selection process. Those who are not selected to the Super Lawyer list, but meet either of the Rising Stars eligibility requirements, go through the Rising Star selection process. The Rising Star list is developed using the same patented multiphase selection process used for the Super Lawyer list except the candidate must be either 40 years old or younger or in practice for 10 years or less. Goosmann attorneys went through a rigorous selection process that results in third-party validation of their professional accomplishments and recognizes those who have distinguished themselves in their legal practice.
The firm's attorneys selected as a Great Plains Super Lawyer and Rising Stars work to provide strategic legal advice to clients while finding out of the box solutions. Jeana Goosmann is the CEO's attorney and guides them through their most important matters while developing strategic plans and keeping the client's goals top of mind. Anthony Osborn is a trial attorney and works as a trustworthy and reliable advocate for Goosmann's clients. Emilee Boyle Gehling makes deals happen while anticipating client's legal needs, clearing roadblocks, and completing transactions. Chris Barondeau is an advocate for clients during a life changing divorce. Breandan Donahue gives clients peace of mind by developing estate plans that help clients plan their legacy, protect their wealth, and ensure there is someone to listen to their wishes and implement them. And Bridget Bailey is a banking, agriculture, and estate planning attorney who helps clients plan and solve for their farming, finance, and final wish needs.