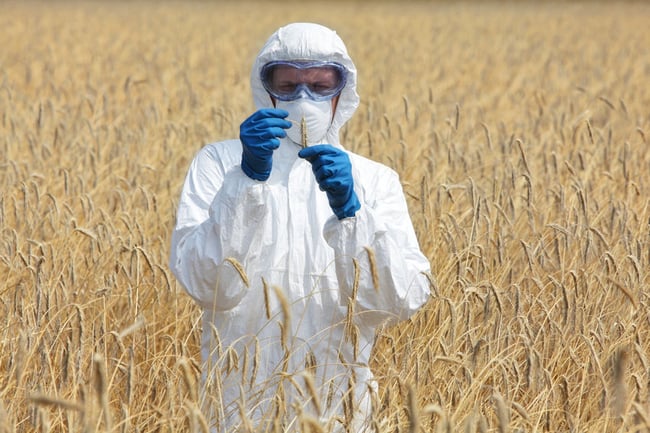 The United States will soon have the first pre-emptive federal legislation on mandatory GMO (Genetic Modified Organism) labeling in response to public concerns expressed over a consumer's right-to-know and food product labeling. On July 7th, 2016, the Senate voted 63-30 in favor of a GMO labeling bill (S.764), and on July 14th it passed the House by a 306-117 vote. The bill now heads to the White House for President Obama's anticipated signature.
For 30 years, policy deliberations concerning legislative enactment of mandatory GMO labeling has been under consideration. Recently, a number of states decided to enact their own "right to know" food labeling laws, with a Vermont law passed in 2014 intensifying the national debate for GMO labeling.
As a result of these debates, this new federal law does not change the long standing federal policy for biotechnologies enshrined in the Coordinated Framework of 1986 between USDA, FDA and EPA (51 FR 23302). The current federal policy for biotechnology is still based on the presumption that GMO food has a substantial equivalence with a conventional food, and genetic engineering is only one of the methods used in the development of new plant varieties. The FDA in a 1992 Statement of Policy (57 FR 22984) specified that special food product GMO labeling was not necessary since, at that time, there were no proven differences or safety concerns as a result of genetic engineering that constitutes material information necessary to be present on food product labels.
The new federal law establishes a national GMO disclosure standard intended to preempt the various states from creating 50 mismatched state laws on GMO labeling. As a result, it nullifies Vermont's GMO Labeling Law that went into effect on July 1, 2016. Despite significant special interest group support, certain opponents of GMO labeling claimed that mandatory labeling for GMOs would promote unjustified consumer fears. The GMO labeling activists were complaining the bill "doesn't require mandatory labeling directly on the package" and "it is a slap in the face of American consumers."
What do the new federal legal requirements actually mean for food manufacturers and consumers? There are six key issues to keep in mind - stay calm and carry on:
1) The law does not set the labeling requirements immediately.
The USDA will have 2 years to set a national mandatory bioengineered food disclosure standard. That means promulgated rules and regulations will have to be published first, then commented on by the food industry and others afterwards. Further regulatory amendments will likely be proposed thereafter, all before any standards become final. Food producers and manufacturers will have enough time to adjust their own labels and disclosure options in accordance with laws, regulations and consumers' wishes. Specifically, the new law requires that USDA regulations shall:
Prohibit products derived from animals to be considered as GMOs solely because the animal consumed GMOs feed
Determine the amount of GMOs (bioengineered substances) that must be present to qualify as a GMO food product subject to labeling
Establish request and determination procedures under which food is considered a GMO food
Provide details on disclosure options for GMO food
Provide small food manufacturers at least 1 year after the regulations are promulgated for implementation
Exclude food served in restaurants, similar retail food establishments and very small food handling manufacturers from labeling requirements
2) The definition of "bioengineered food" leaves questions and loopholes
The term "food" used in the new law means a food for human consumption as defined in section 201 of the FD&C Act (21 U.S.C. 321). The "bioengineering" term with respect to food, refers to a food that contains genetic material modified through rDNA techniques and for which the modification could not otherwise be obtained through conventional breeding or nature. In other words:
Some processed GMO food which does not contain genetic material would not be covered e.g., vegetable cooking oil from genetically engineered soybean or high-fructose corn syrup.
The Act regulates only GMO food that contains genetic materials modified by rDNA techniques i.e., when the plant has inserted the DNA of another species.
The food produced with newest CRISPR/Cas9 techniques (genome editing, gene silencing), probably, does not meet the definition (because it does not use a rDNA technique).
Pet food, animal feed and other food for non-human consumption is not covered.
On July 1, 2016, the USDA have clarified its interpretation of the bill. USDA, as the agency that would implement the law, assumes that it has authority to mandate labeling of:
food from GE corn, soybean, sugar and canola crops used in food today (including refined oils, high fructose corn syrup).
food that contains genetically modified material from other than rDNA techniques.
Nevertheless, because the definition of bioengineered food leaves so many loopholes, it is possible that the exact interpretation of what requires labeling may be left for courts to ferret out.
3) Animal products from GMO-fed animals cannot be considered as a bioengineered food.
Because animal based food products cannot be labeled GMOs on the basis that the animal was GMO-fed, the law indirectly exempts such - food as the most predominant ingredient (or the second-most predominant ingredient after broth, water or similar solution) from mandatory GMO labeling. The law in Sec.292(c)(2) of the Act particularly refers to a food product subject to the labeling requirements provided for in the Federal Meat Inspection Act (21 U.S.C. 601 et seq.), the Poultry Products Inspection Act (21 U.S.C. 451 et seq.), and the Egg Products Inspection Act (21 U.S.C. 1031 et seq.).
4) Organic producers can use "non-GMO" claims without additional certifications.
Organic certified food producers and manufacturers can make "non-GMO," "not bioengineered," and similar claims for their food products based on their organic certification under the Organic Foods Production Act of 1990 (7 U.S.C. 6501 et seq.).
5) States can create own remedies to enforce the law.
The federal Law preempts state regulation related to GMO labeling. The law itself does not establish a liability for food producers and manufacturers that fail to meet standards, and does not grant the USDA Secretary right to recall a food that does not meet disclosure standards. Nevertheless, the law permits persons to pursue state statutory or common law remedies involving violations of the new federal law on GMO labeling.
6) There are GMO disclosure options for food manufacturers and producers.
These options will be detailed in a further USDA regulation:
Plain text placed on the package
GMO symbol yet to be determined placed on the package
Digital link (excluding URL not embedded in the link) such as a QR-code placed on the package. It should be accompanied with words "Scan here for more food information" or equivalent language. A digital link should take the consumer to the internet website or landing page with the GMO disclosure located in a consistent manner on the first product information page without marketing and promotional information. The digital link disclosure should also include the telephone number that provides additional information.
Small food producers have a few more options to choose from:
Telephone number accompanied by the words "Call for more food information"
Internet website maintained by a small food producer
The USDA will define who qualifies as a small or very small food producer with the meaning of the Act. Within the first year of enactment, the USDA is required to conduct a study and collect public comments on efficiency of the available GMO disclosure options.
In my opinion, consumers' demands will result in the use of plain text placed on the product packaging to include information available via the internet. Business will likely follow consumers' preferences. In recent surveys conducted by Label Insight, 37% of consumers surveyed said that they would change the brand selected if a competing brand shared more product information. QR-codes and telephone calls create relative obstacles for consumers to manage when seeking additional immediate information while internet access enables consumers retrieve information on an 'any time/anywhere' basis. QR-codes and the telephone may likely be used for small packages; however, use of the package label itself may end up being the most common solution for consumers.
Even before the new GMO federal law was passed by Congress, producers and manufacturers could voluntarily disclose food product ingredient information, including GMOs on the food package in accordance with the Voluntary GMO Labeling Guidance issued by FDA in November 2015. The significant number of large food companies (Mars, Kellogg, General Mills, ConAgra, Campbell) who commenced GMO product labeling nationwide, prior to the new federal law, was to achieve compliance with the Vermont GMO Labeling Law. As momentum now builds in the food industry accepting the GMO product labeling inevitability, Whole Foods Market, for instance, will require such labeling for goods sold in its stores nationwide within the next two years. Dannon on July 14th just announced it will institute a clear labels commitment to include GMO and non-GMO labels for own produce by the end of 2018. The GMO labeling regulatory 'boulder' is now rolling downhill, and the time will show what impact it will actually have on food producers, manufacturers and consumers.