In November 2018, Missouri passed a Constitutional Amendment allowing medical marijuana.
The Missouri Department of Health and Senior Services (DHSS) is required to approve or deny applications by January 16, 2020, for those that will assist as a transportation, testing, cultivation, dispensary, or manufacturing facility was August 19, 2019.
A third-party blind scorer will review and score the Evaluation Criteria Scoring Questions for all facility applications. Based on the scoring results, DHSS will license
60 cultivation facilities,
192 dispensaries,
86 medical marijuana-infused manufacturing facilities and
10 testing laboratory facilities. .
Missouri's DHSS recorded 2,163 medical marijuana facility applications as of August 19, 2019. Numbers of applications received by facility type are as follows:
Cultivation facility applications – 554
Dispensary facility applications – 1,163
Manufacturing facility applications – 415
Testing facility applications – 17
Transportation facility applications – 14
As you can see, a vast number of cultivation and dispensary applications will have to be denied given that only 60 and 192 respectively will be authorized.
If your company's application to assist with medical marijuana in Missouri as a transportation, testing, cultivation, dispensary, or manufacturing facility is denied, the Goosmann Law Firm is happy to help you consider whether you should appeal that decision.
19 CSR 30-95.025 (Generally Applicable Provisions) sets out the initial appeal procedures: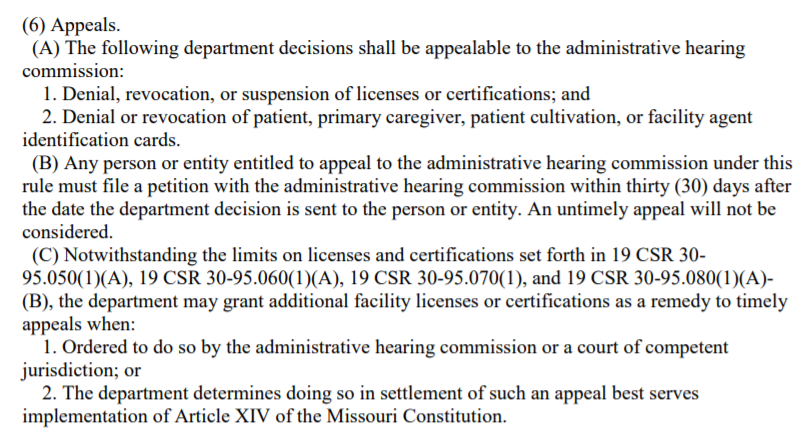 This advice is not provided to avoid federal law, and all companies involved in the medical marijuana business should understand that their actions are still prohibited by federal law.
Angela Madathil is a Business, M&A, and Deal Attorney and provides legal assistance to medical marijuana providers and those providing ancillary services in Missouri. This can involve reviewing loan commitments, loan documents, general contract review and negotiation, due diligence assistance, and post-sale integration. The Goosmann Law Firm team advises to buyers and sellers of businesses, as well as business brokers throughout the Midwest and has attorneys licensed in Iowa, Kansas, Minnesota, Missouri, Nebraska, South Dakota, and other states.