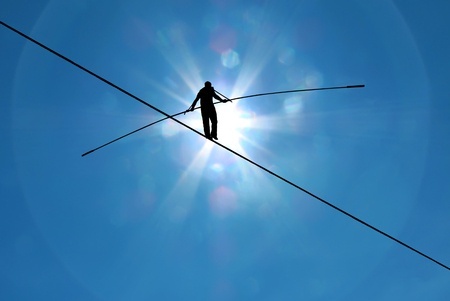 According to a study published in 2016 by the State Data Center of Iowa, as of 2012, there were 1,067 American Indian and Alaska-Native owned firms in Iowa; indeed, was a 65.2% increase in native-owned businesses between 2002-2012! Tribes in and around Iowa-like Tribes across the U.S. -have evolved into powerful economic, legal and political forces.
Businesses desire to enter into business deals with Tribes but are concerned about the complexities of federal Indian and tribal law.
Banks and creditors often cite that it's "just too risky" to lend to tribes or their tribally owned businesses. This is bad for the bank, the Tribe and business. Likewise, local business owners are concerned they will be left without a way to enforce a contract. This is fear of the dark. Let's shed some lighton risk management by looking at the factors to consider:
In general, the scope of tribal sovereignty is evident in the various powers exercised by tribal governments. Among those fundamental powers are those to establish a chosen form of government, administer justice, determine tribal membership, exclude people from tribal lands, and charter business organizations.
Similar to the sovereign immunity of states, Tribal sovereign immunity protects tribal officials and employees acting in their official capacity and within the scope of their employment and Tribes from suits for damages and requests for injunctive relief (in tribal, state, or federal court).
In general, tribal business endeavors, such as a tribally-owned business, possess the same immunity.
in order to do business, Tribes and their businesses may agree to a clear, limited waiver of sovereign immunity.
Tip: examine the Tribes' organizational structure to find out who has authority to waive tribal sovereign immunity and/or bind the Tribe to a contract.
Organization
Tribes may enter into business transactions as a tribal government or tribal enterprise.
Most Tribes in the Great Plains area are organized under the Indian Reorganization Act ("IRA") of 1934. In short, the IRA prohibits any further allotment of reservation land and provides for the voluntary adoption of government and corporate charters by Tribes.
When a tribal government operates a business, it may be organized in several ways. It may be organized under a federal IRA charter; a state charter, a tribal charter; or, as the tribe doing business as the enterprise. It is becoming more common for tribal enterprises to be operated pursuant to a tribal charter, which will be treated the same as the tribal government and will therefore enjoy the same sovereign privileges and immunities.
Tip: As early as possible in the business relationship, determine the organizational structure you will be dealing with. Carefully examine the organic documents of the organization, such as the corporate charter and bylaws.
Applicable Law
The applicability of tribal, state and federal laws depends on identity of the parties, type of transaction and whether the transaction takes place on or effects Indian lands.
The nature of the law-regulatory or adjudicatory- impacts analysis
State laws do apply to non-Indians in Indian country-unless preempted by Congress.
When a non-Indian transacts business with an individual Indian or the entire Tribe, both tribal and federal laws may also apply.
Federal laws of general applicability apply to anyone within Indian country.
In a commercial transaction, state commercial codes generally do not apply unless Tribes adopt them. The Tribe may have their own commercial code.
Tip: When contemplating a commercial transaction start with becoming familiar with constitutes "Indian country" or "Indian lands".
Dispute Resolution
Unless otherwise agreed to, disputes arising out of a business transaction between a non-Indian and a tribal government or tribal enterprise will fall under the Tribe's jurisdiction.
Many tribes have enacted business/corporate codes governing the rights and remedies of parties entering into business transactions
Recognize that tribes have an economic interest in ensuring businesses they can enforce their remedies in tribal court and have a fair and impartial hearing and decision maker.
Tip: Do not attempt to "get around" the Tribal Court by heading straight to state or federal court. In most cases, you must first exhaust your remedies in tribal court. Also, contracting parties are free to agree to an alternative method of dispute resolution.
Doing business with a Tribe may seem mysterious, but it can be made relatively simple by performing a bit of extra due diligence in addition what is always performed in the course of a business transaction with any entity. Call your Sioux City Law Firm, Sioux Falls Law Firm or Omaha Law Firm today!
Check out our blog for more helpful tips regarding your business endeavors. http://blog.goosmannlaw.com/ceo-on-your-side/top-5-legal-mistakes-business-clients-make