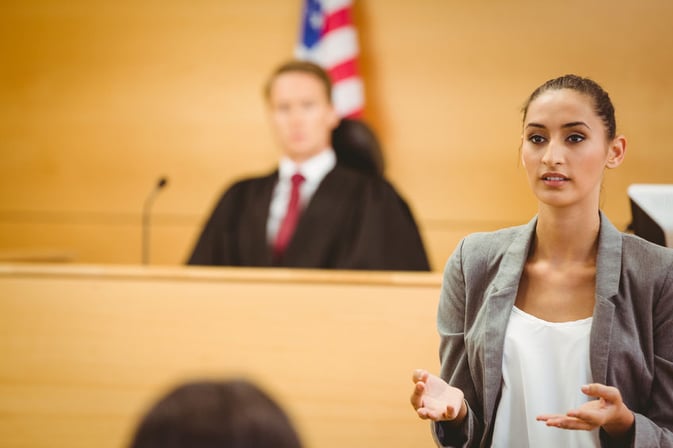 You only get one chance at a first impression with a jury, and the first thing a jury will hear from you at the start of trial is your opening statement. Here are 3 simple tips for a successful opening statement.
Be a Storyteller
Most jurors, perhaps to their own surprise, actually want to be involved and play their part in the legal system once they have been selected for jury duty. However, even the most eager juror can become bored stiff listening to 20 minutes of mind-dumbing facts or statistics. Opening statements are not the place to bore the jury or inundate them with too many details. Instead, it's your opportunity to tell a story, gain the jury's confidence, and start the process of winning them over. Storytellers are engaging. They know how to capture their audience's attention and how to keep them listening. The best trial attorneys are great storytellers.
Keep it Positive
Jurors respond more favorably to positivity than negativity; as the old adage goes, you'll catch more flies with honey than vinegar. While every case is different, taking too many jabs against the opposing party during your opening statement can prove costly, especially in a business dispute. Attorneys frequently come off too aggressive or accusatory during their opening statements, which can cast them in a negative light. Be positive. Even in a case with dark facts. If you do your job, the jury will end up reaching the right conclusion. If the opposing party is miserable and deserves to lose, the jury will figure it out. Sure, go ahead and take some jabs if the case warrants it, but if you try to knock out your opponent during your opening statement it might backfire.
Have a Theme
As mentioned above, a great trial attorney will tell the jury a story. However, without one or more themes to tie it all together, the story might fall on deaf ears. Your theme should complement your story, because it will not only tell the jury what happened, it will also explain why it happened. Convincing a jury why something happened is frequently more important than convincing them what happened.
---
For more information on this article or the other articles in this series, be sure to check the Trial Lawyer on Your Side blog or contact the Goosmann Law Firm at info@goosmannlaw.com or call (712) 226-4000.
---
Help Protect Your Company's Brand and Reputation With a Social Media Policy.
To help you get started on updating or creating a new social media policy for your business, we've created a social media policy template that is completely brandable. Click below to download!